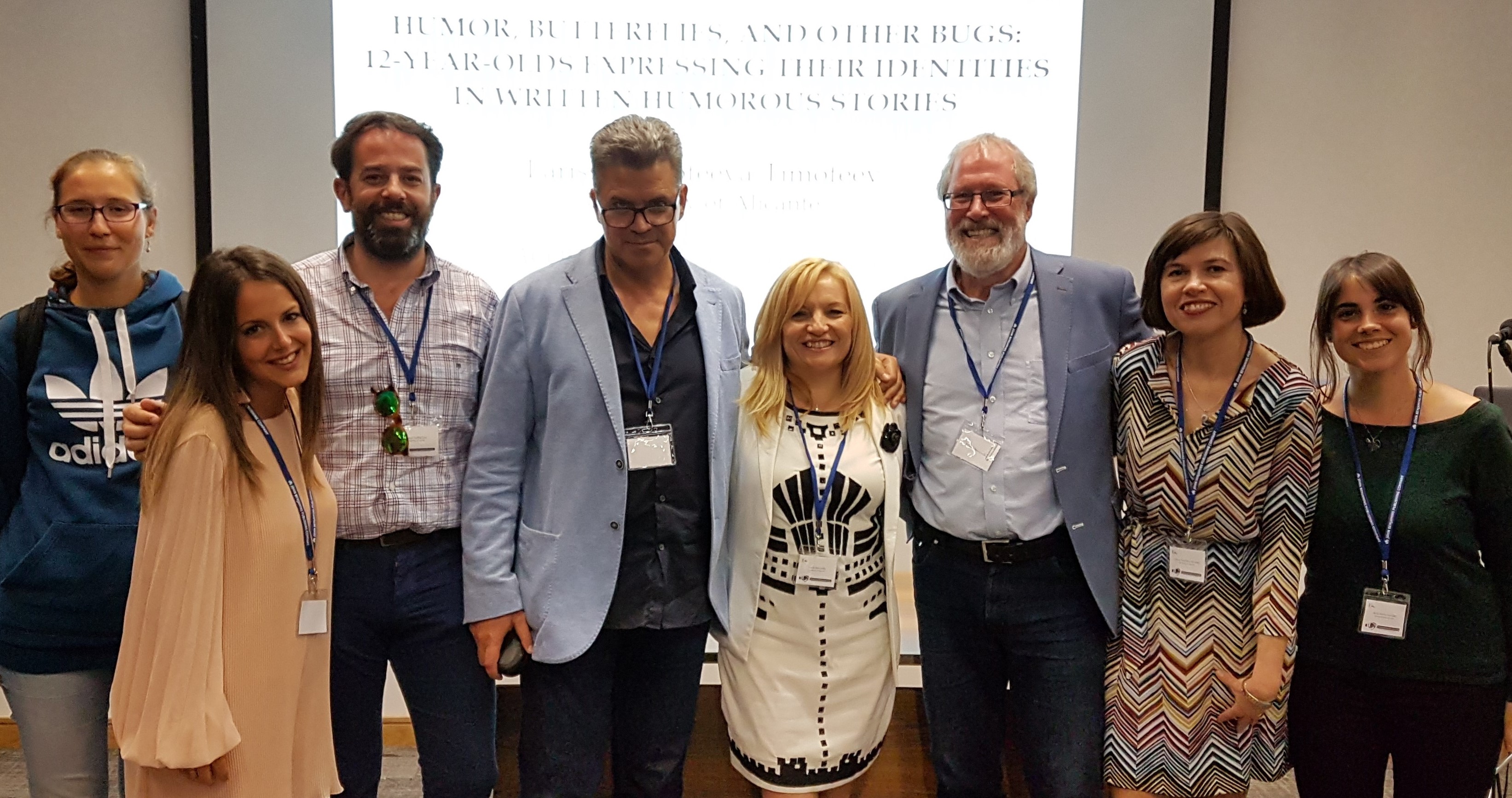 Por
esther
This was the theme of the 15th International Pragmatics Conference which was held in Belfast last week. We took part in it as our colleagues Larissa Timofeeva and Leonor Ruiz Gurillo led a panel on exploring identities through humor. The panel was presented last Tuesday 18th and it was comprised of five talks divided into two slots from 15:30pm to 18:30pm. It was a great success which was proved by the large number of attendees.
Larissa Timofeeva began this panel analyzing the way children show their identity construction and self-esteem with examples taken from the corpus CHILDHUM, which contains 448 humorous narratives. Her ongoing research presented a new approach to the issue of humor acquisition.
The following talk was given by Lovorka Zergollern-Miletic, who analyzed the influence of humor in the learning process. She presented the results of a questionnaire about students' perceptions of the use of humor in the academic context. In general terms, participants were aware of the importance of humor in educational settings and they had a positive attitude to its use.
Next, Leonor Ruiz Gurillo presented her research on how Stand-up comedians depict their identity, more precisely she explored Eva Hache's feminine identity when performing humor on stage, and examined the variety of functions achieved in 76 humorous sequences extracted from a set of 24 gendered monologues. Interestingly, the speaker applied Ducrot's polyphonic theory and analyzed not only the feminine identity of the comedienne, but also the way Eva Hache is able to represent the male's voice either as utterer or locutor.
After the short break, Francisco Yus showed the link between discourse and social networks in terms of users' identities. Indeed, he developed his talk on internet memes, since they are one of the most popular forms of internet humor in digital communication. Thanks to this presentation, we could see how memes are a phenomenon through which users can perform their virtual identity within a community.
Finally, Manuel Padilla exemplified the creation and reinforcement of a local identity with the case of Cádiz carnival and the humorous elements that can be found on "chirigotas". The best way to understand the formation of this local identity was by displaying some videos of the carnival performaces and by singing their lyrics!
All in all, it was a fantastic experience! We shared our ideas with other pragmatists and lived unforgettable moments during those six days in Belfast. It was definitely Pragmatics in the real world.